Footing Construction
Services
Specialised Footings
With over 35 year's experience providing commercial and residential concreting services in both metropolitan and rural areas, we're renowned for our expertise. As our core business from the beginning, we understand the intricacies and requirements of a successful project and our skilled team will work closely with you to deliver the results.
Choosing Theo Agelis for your footing works means you can expect transparent costing, diligent project management, expert placing and quality finishing.
We set the benchmark in South Australia for concrete finish, and service.
Need footings?
We can supply and install at a highly competitive price.
Our volume of business and three-decade long reputation gives us the opportunity to purchase materials at extremely competitive rates unavailable to others in the industry. We are able to pass these savings on to our clients and provide the quality work we are known for at an impressive rate.
Trenching
Accurate set out and excavation of footings, piers and other detail excavations ensuring expert team understand the complexities and requirements and can deliver guaranteed value and satisfaction.
Excavation and trenching work must be planned and executed accurately so as not to negatively impact a projects timeline and budget. Our wide range of machinery and equipment allows us to efficiently excavate projects of varying sizes and requirements suitable for both commercial and residential jobs.
Our team will work with you to tailor a solution that best meets your needs.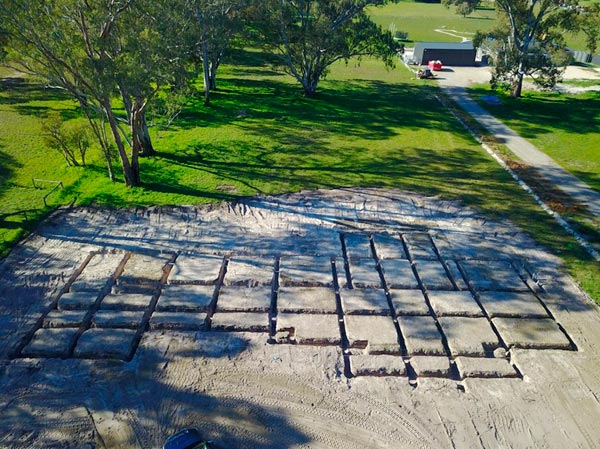 Steel fixing
Supply and installation of all reinforcing accurately to meet engineer's inspection requirements.
Our expert team will take-off and schedule eliminating 3rd party supply issues.
We provide tailored steel fixing services for our footing projects. Our team are experts in their field, and work to the highest industry standards.
We value safety and the importance of Personal Protection Equipment and maintaining clear and hazard free work sites.
Due to our established high volume purchasing and long-term relationships with suppliers we are able to offer our customers excellent value supply and fix of reinforcing products.
Our experience allows us to expertly manage workflow, contractors and logistics of sites to ensure your project runs like clockwork. We can schedule and supervise throughout, from site start to the footing completion.